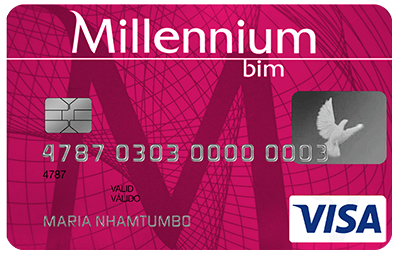 It's practical, safe and easy to use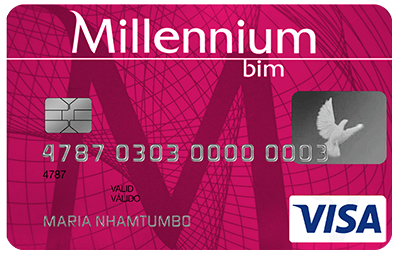 Visa Worldwide
Accepted for cash withdrawal or payments worldwide.
Flexible Management
Track your account at any Millennium bim network ATM or on digital platforms.
Revolving Flexibility
This Card offers you Personal Accident Insurance when traveling and travel assistance. The Card provides you with total flexibility in managing your family budget, as you may choose to pay any amount each month, from 10% to the total outstanding balance.
Functionality
Convenient, quick and safe access;
24 hours a day, 365 days a year;
Purchases and Cash Advance anywhere in the World, on the VISA network;
E-commerce transactions;
Balance/transaction enquiry.
How to Obtain It
To obtain the Classic Credit Card visit a Millennium bim Branch. Access Conditions:
Access Conditions:
 Holder of a Current deposit account  in Meticais with Millennium bim;
 Presentation of the identification document: ID, DIRE (Identification and Residency Document for Foreigners) or Passport.
Note: Approval is subject to a Millennium Bim Risk Analysis and Credit Decision.
Charges
The issue and 1st Annual Fee of the VISA Classic Card are free of charge, and only the annual fee is charged for the following years. In case of replacement of the Card, the replacement fee is charged, unless originated by the expiry of the Card. The issue, annual and replacement fees are published in the Bank's Schedule of Charges, available for online consultation and at any Millennium bim Branch.
Visa Advantage Programme
When making payments at the outlets of Visa Advantage Programme Partners you are entitled to discounts.
---
Benefits at Lusomundo Cinemas
When paying for a ticket with the Classic Credit Card you are entitled to benefit from the following Benefits::
 When buying a normal ticket, you are offered a second normal ticket;

 When buying a ticket for the VIP area you pay the price of a normal ticket.
Note: Maximum of 1 ticket per day and per Card, not cumulative with other discounts. Excludes digital 3D upgrade and 3D glasses.